Made in Japanのニットが今年も登場
毎シーズン好評の日本製ハイゲージニットが今年も登場。
こだわりぬいた究極のニットウェアを、
鎌倉シャツから今年もお求めやすい価格でお届けいたします。
世界で最も高級と言われる16.5マイクロンというウール「スーパー140's」という
超極細の糸(エクストラファインメリノ)を採用。
18ゲージというハイゲージで編みあげた最高級のニットは、
カシミヤに匹敵する上質な光沢をもち、
温かさと動きやすさ、最高の着心地をお約束します。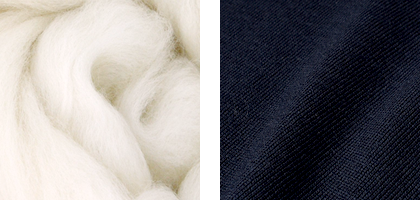 Fine Merino wool is generally less than 19.5 microns in diameter. For this collection, we went even further with extra-fine "Super 140's" wool, a 16.5 micron thread renowned as the finest in the world.
Unlike the 14 gauge wool commonly used for knitwear, 18 gauge ensures a silky smooth touch. Fine fibers are essential for high gauge knitwear, making 18 gauge and Super 140's wool the perfect combination.
The most beautiful coloring demands the best quality fibers. Super 140's gives knitwear an unmistakably vivid color.
The silky soft feel of 18 gauge Super 140's wool against your skin is comparable to cashmere. This combination offers the most outstanding texture by any standard.